Welcome to Proficient Machine & Tool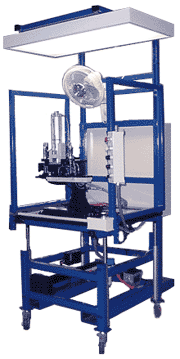 At Proficient Machine & Tool we specialize in designing and building custom machines & fixtures. Our team will proficiently produce anything from a simple fixture to complete assembly lines consisting of several manual and/or automated work stations. Our process includes conception, design, build, machining & fabricating, controls, documentation, installation and training. Our customer base includes, but is not limited to, Tier One Automotive Suppliers, medical, graphic design, retail industries, office furniture, home improvement and agricultural in the U.S., Mexico, Europe, and China.
Mission Statement:
At Proficient Machine & Tool we provide our customers with products that consistently exceed expectations while maintaining a team orientated and comfortable work environment. Our team prides itself with the highest of morals and ethics and we believe in treating others as we would like to be treated ourselves. We are eager to serve you with the standard of excellence you deserve.